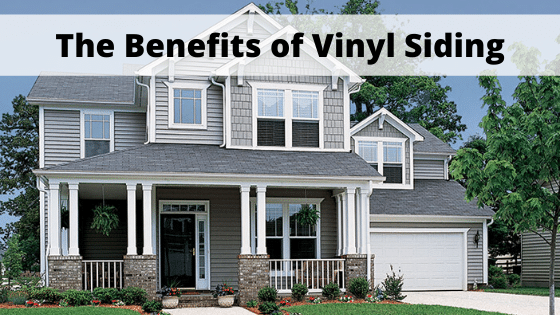 Siding & More Construction Company installs only premium vinyl siding to accommodate your needs. Vinyl siding that is incomparable in beauty, is durable, and long-lasting magnifies your home's curb appeal, and sets your mind at ease for years to come.

There are many benefits to both Hardie Board and vinyl siding, but for now, here are the benefits that set vinyl siding apart.

It's Durable
Vinyl siding is created to be durable for years. In order to prevent sagging and to maintain straight panels, it's created to be rigid as well as tough. This is especially important in premium vinyl siding because it assists the panels in resisting high heat. Not only is vinyl siding resistant to fading under the elements, but it stands strong against the harsh elements particularly hail and wind..

It's Low Maintenance
Vinyl siding needs no staining, no painting and no caulking. Additionally, the convenience of the siding never needing painting ensures you only ever need to clean it with a pressure washer or simply soap and water.

The Functionality
Not only is vinyl siding beautiful, it's functional in that it keeps your house protected. As a cost-effective option for defending your home, vinyl siding's weather-proofing ensures that your energy bill remains consistent!


The Appearance, Colors, and Textures
Paralleling the texture of real wood grains and standing out in beautiful color options, our vinyl siding choices ensure that the look of your home is preserved for years to come. You will never have to paint or stain your siding! Enjoy over 35 base colors or our light neutral options. Pigmentation is baked in, which means that the color will not fade

It's Affordable
Of all the siding choices, vinyl siding is uncontested in its affordability. Not only is it durable and essentially maintenance-free, it's inexpensive! When you call us for pricing, we give you a detailed list of all costs involved and an estimated time frame for project completion. We also offer 100% financing.

It's Covered Under Limited Lifetime Warranty
Both our Mastic and Norandex premium products are backed by the best-in-business limited lifetime warranties. That means your time is freed from no-maintenance, and your mind is free from the stress of wondering what will happen to your vinyl siding in case of things like hail damage.

When you're considering improving the value of your home or simply replacing your current vinyl siding, give us a call today (972) 454-4397 for a free quote!