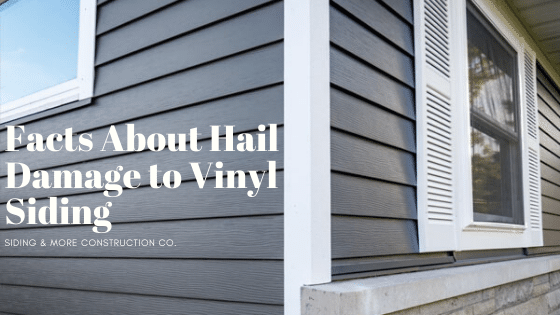 According to the U.S. Department of Commerce, Storm Prediction Center, National Weather Service, Texas was ranked number 1 in the United States for hail events in 2018 with a hail occurring a total of 508 times.
Another source, The Insurance Journal, 1 said that in the same year, the baseball-sized hail that hit a multitude of communities on June 6th caused "an estimated 20,000 structures and 25,000 vehicles" to be damaged.
And this included homes.
It's true that vinyl siding prevents you from having to repaint your house every five or so years, but the ultimate goal of vinyl siding is to protect your home from nature's harsh elements, especially here in Texas. However, depending on the type of siding on your home, your protection may or may not be as good as it can be.
Premium siding, like our Mastic, Alcoa & PlyGem, far exceeds the minimum requirements of the American Society of Testing & Materials (ASTM) Standard 3679. This Old House easily lists the guidelines for picking out premium siding:
The ASTM only requires panels to be .035 inches thick. But to get quality panels, they need to be at least .040 inches thick.
Soffit panels need to be thicker to prevent sagging at about .05 inches thick.
Look for anti-weathering protection on your siding as sunlight outright damages vinyl.
In addition to the expected sun exposure to your vinyl siding, the two biggest types of damage to your home's siding by hail are cracks and chips. When hailstones hit an unsupported siding panel, it can crack it, especially on older vinyl siding. On the other hand, when a hailstone hits the lower, outer-most section of a panel, it will easily chip it. Again, this type of brittleness is caused by low-quality or older panels. Once your home's vinyl siding is compromised, your entire house is compromised as well.
When there are cracks and chips in the panels from hailstones, your home becomes vulnerable to:
Pests
Higher energy bills
Possible water damage and mold or mildew issues
The value of your home could decrease
The Best Solution
Our Mastic (Alcoa) by PlyGem withstands extreme heat, sun, damaging hail, and hurricane-force winds. Mastic offers the best siding products like Structure and Quest. Our Alside vinyl siding ranges from .040 inches thick to .048 inches thick, so you know you're getting premium.
You also need to ensure that the best warranties in the industry back your product. Our products offer a Limited Lifetime Warranty that covers your products for as long as you live in and own your house. If you sell your home, you can transfer the warranty to the new homeowners (limitations apply).