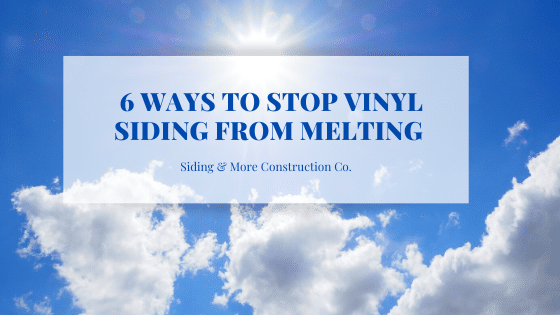 Spring is right around the corner, and that means that longer days (and stronger sun rays), and grilling out is in sight.
Most of us have seen the damaging effects of heat on vinyl siding. The Texas heat is known to especially wreak havoc if gone unnoticed.
There are two main reasons that vinyl siding can melt: barbequing too close to the house is one, and the sunray's reflections off of nearby windows onto the siding is the other. No matter the culprit, the result is unsightly and the integrity of the vinyl siding is certainly compromised.
The first cause of melted vinyl siding is grilling too close to your house. Although it's tempting for various reasons to stay near the house (your deck is attached to the house and is convenient, or the yard isn't in optimal condition to BBQ), it's best to keep at least 10 feet away when grilling out.
While grills are a huge culprit for melted vinyl siding, the number one culprit is reflective sun rays bouncing off of windows. Oftentimes your windows or your neighbor's windows will reflect sun rays onto your house (depending on how close your house is to theirs). Surprisingly, the heat can get so high that the constant rays will eventually melt your vinyl siding.
Vinyl siding tends to begin melting at around 165 degrees Fahrenheit. And remember, the darker your siding, the more heat it absorbs.
Tips:
Stick with a vinyl siding that is lighter in color so as not to absorb more heat than necessary.
If your house is close enough to your neighbor's house, consider landscaping separators between the two houses so that the sunrays are broken up and don't directly hit your siding. Consider shrubs, trees or fences.
If the direct sunrays are bouncing off your own windows, place screens over them in order to help with the solar glare and solar heat. This gets to the source in order to prevent any damage.
Again, if the sun rays are reflecting off your home's windows, awnings over the windows are an option.
Grill at least 10 feet away from your house.
Only use vinyl siding that has high-heat resistant capabilities. Cheaper, low-quality or vinyl siding that is aging or beyond its lifetime are susceptible to more damage.
Remember, quality vinyl siding is the best way you can protect your home from most elements. Give us a call for a free in-home estimate! If you have any questions, contact us any time!